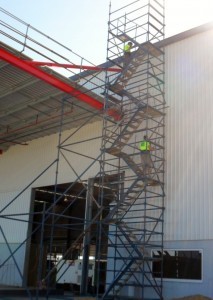 Safety is very important to us and having the right tool for your job is important to you. ATF Access Towers are one of the safest and strongest access solutions available. They suit a range of applications and industries, will provide better work place safety, and increase productivity. ATF have a strong reputation throughout Australia for producing innovative scaffolding systems for customers in all types of industries. Our range of scaffolding includes, heavy gauge aluminium components, diagonal bracing, internal handrails and tie tubes, giving you the reliability you expect from a high quality scaffolding system. Installation is carried out by fully trained and competent installers. Ensure safety on your site by providing an access scaffolding aluminium Stair Tower. ATF Access Tower systems meet relevant Australian standards – engineering details/certificates available on request.
Suitable For:
Plastering
Maintenance Work
Restoration Work
Painting
Construction Applications
They provide a safe, temporary work platform that meets all requirements for the new occupational health and safety regulations.
---